I know what you are thinking.  It's almost June?  Why aren't we mining yet?
I don't know where this global 'warming' I was promised is, but I can tell you that doesn't seem to be the case this year.  Its COLD.  Too cold, the ground is still frozen and there is still snow.  We had to plow our way in there just to get to our stockpile of paydirt. Add to that, recovery from a minor surgery and, yes, we're running late this year.  My apologies.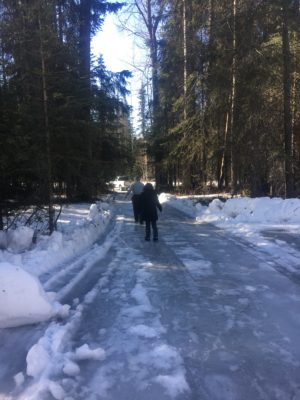 I don't have much more to share with you right now.  I did want to give a mighty shout out too our local trade school.  Our very talented and patient welder moved away last year and as usual we had broken a few things on the trommel last season.  Out of desperation I called the welding instructor at the technical school in Seward and offered to donate to their welding class if they could help me out.  Those kids fixed the trommel right in the parking lot on the last day of classes.  The charge?  All they would take was a box of Donuts!  That's a good deal!
If you know a young person who's looking for a career in the trades, I highly recommend AVTEC, I spent some time walking around while I was waiting for the repairs and it's a great campus and they really seem to have a wide range of offerings – everything from renewable energy to cooking.
If you've been on our site lately, you may have noticed we've started carrying some prospecting supplies, I've been slowly adding them to the site.  Most of these will ship from the manufacturers warehouse for free right to you.  We don't make much off them, just trying to help you guys out. If you are looking for a new sluice box or metal detector to use outside this summer check it out.  If you are looking for something we don't have  let us know what you are interested in and I'll see if can get you a good deal.