First thing's first.  I want to apologize for the lateness of this post.  We've been packed up for the season for sometime now, and knowing this was going to be the final post of the year, I wanted to put a positive spin on it.  I wanted something other than "well that sucked, and now its over."  I wanted to tell you guys that we did eventually find the source of the great gold we were getting at the bottom of the cliff face, and show you photos of the sluice box and pans just piled with gold.
Yesterday, when reading my favorite poem, the 'Spell of the Yukon' by Robert Service,  I came across the following:
I wanted the gold, and I sought it; 
   I scrabbled and mucked like a slave. 
Was it famine or scurvy—I fought it; 
   I hurled my youth into a grave. 
I wanted the gold, and I got it— 
   Came out with a fortune last fall,—  
Yet somehow life's not what I thought it, 
   And somehow the gold isn't all. 
I realized that this IS part of gold mining, and you guys would understand.
It's not the GOLD that matters, it's the STORY that does.  So here it goes.
Well that sucked, and now it's over.
We continued to search for the source of the gold we'd found.  We studied maps, built roads, and dug test holes.  The rain that plagued us almost this entire season doubled down for the end of the summer, and we found ourselves spending most of our time getting stuck, getting unstuck, or repairing roads.
In one particular stroke of bad luck, a fallen tree got caught up in the track of the dozer, and got pushed right through the window of our new excavator parked nearby.  As I drove up on a four wheeler, I found my husband with his head in in hands.  He said, "it's so hard not to get discouraged."
It gets worse.  The next day, guess who came to visit?  Why, the friendly neighborhood MSHA inspector (mining safety and health administration), and this is what he saw.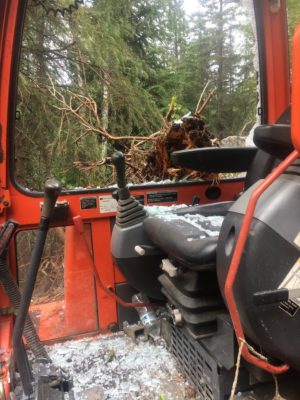 For those of you that aren't miners, you don't know the fear that these four letters strike in the hearts of small miners.  While MSHA's purpose is valid and honorable, mining safety laws are written for multi-million dollar operations, are up to the interpretation of the inspector, and are very subjective and difficult to understand.  As a small operator, compliance is almost impossible.
We lucked out. We got an inspector who was a pretty decent fellow; no tickets, but a laundry list of things to fix.
It was maybe a week later, my husband and I in the woods, in the rain, using a come-along and a tree to try to get the track back on the excavator, that's when I knew we were done.  We had run out of steam, and it was time to call it for the season.
I don't know what next season holds, we are too exhausted right now to make any plans.   While we settle in for the long winter, I'll leave you with the last passage of that same poem.  Until next season!  God Bless.
There's gold, and it's haunting and haunting; 
   It's luring me on as of old; 
Yet it isn't the gold that I'm wanting 
   So much as just finding the gold. 
It's the great, big, broad land 'way up yonder, 
   It's the forests where silence has lease; 
It's the beauty that thrills me with wonder, 
   It's the stillness that fills me with peace.