Hello Folks,
Seems there are some of you that are planning trips to Alaska. I
thought I might do a little post with places I've been and pay-to-pan and free
areas where I have gotten good gold.
Kennecott Copper Mine in McCarthy, Alaska. If you guys are planning a trip here, message me and I'll give you some tips on making this trip, its a little tricky with shuttles and places to park, etc.  Its breathtakingly beautiful to see the old mining town overlooking a glacier.
Kennecott – Wrangell – St Elias National Park &Preserve
Independence Mine. This is not too bad of a drive from
Anchorage, they even rent pans and let you work the tailing piles.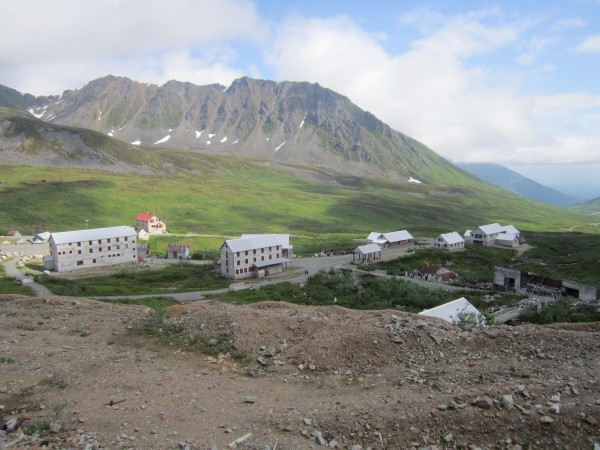 Independence Mine State Historical Park, Alaska State Parks
Now, my most favorite, pay-to-work claim. Its a little spendy, but I've always gotten my monies worth in gold in the end. In face quite a few people have joined the "one ounce club"
on their facebook page this week. This is quite a drive, but if you are driving
through Canada to get here, its not too far from where you cross the border in
Tok.
Chicken Gold Camp ,Chicken, Alaska: RV Park, Cabins, Caf, Gold Mine & Dredge
I have never worked here myself, but I have heard realty good things about Crow Creek
Mine in Girdwood, only a short drive from Anchorage.
THE HISTORIC CROW CREEK GOLD MINE Girdwood, Alaska
I recently met some of these guys in a Mining Safety class I had to take, I have never been to their camp, but have heard good things.  I have prospected in the area (see below petersville).  In fact the first gold I ever found was near their camp.  They run a bed and breakfast with gold mining.
http://www.cachecreekcabins.com/
Now for free to pan areas:
This publication is for areas on the Kenai Peninsula. I have gotten good gold in most of them, though some of the streams require a permit to dredge and
open\closed dates if there are salmon in the stream. If you have any questions
on these I may be able to help you, as I have worked most of them.  I've had the best luck on Resurrection Creek.
https://www.fs.usda.gov/Internet/FSE_DOCUMENTS/stelprdb5195151.pdf
I have also visited the Petersville area and had good luck, the road can be
treacherous. If you are going to visit Denali National Park, its on your
way.
http://dnr.alaska.gov/mlw/factsht/mine_fs/petersvi.pdf
There are many others in the interior, I have not visited them all but here's a little
bit of info on them.
http://dnr.alaska.gov/mlw/factsht/mine_fs/caribou1.pdf
http://www.alaskacenters.gov/upload/…ning-in-AK.pdf
For you GPAA folks, there are a lot of really great claims, some are not too far from Anchorage.
http://www.goldprospectors.org/Community/Chapters/Chapter-Directory?state=AK
Also, my biggest piece of advice, if your driving around
Alaska, you need to buy a Milepost book, you wont be sorry.