With the backhoe still in the shop, we decided to make the most of the downtime and test one of the hot spots that showed up on the magnetometer survey.  Its important that we know where we are aiming for next season, so I can start working on the permitting this winter.
We've had our eye on this spot since we bought the place.  We call it 700, named after the rumor that a previous owner got 700 ounces in one small spot somewhere on our claims.  We don't know where he found it, or if this is really true, but we've always joked that OUR 700 ounces would be found here.  Its a natural drainage down into the canyon from up hill.
Problem is, there's so much water and muck coming down this area that it stays frozen through much of the spring. Then, when it thaws, it turns into a soupy mess that's easy to get equipment stuck in.  However, it turned out to be one of the largest hot spots on the survey that we can easily access, so we decided to revisit it.  Imagine, all that money we invested in the magnetometer survey only to find out what we already knew!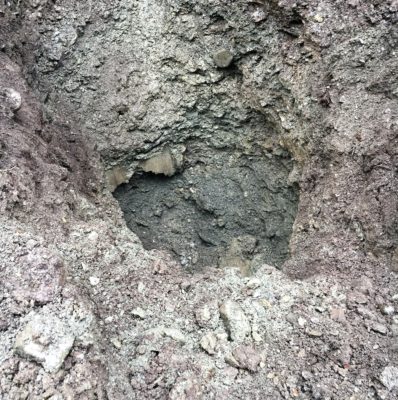 We got the excavator in there, sure enough, it's just as I remember.  Wet, muddy, clay ridden material.  Dug as deep as we could and panned a sample.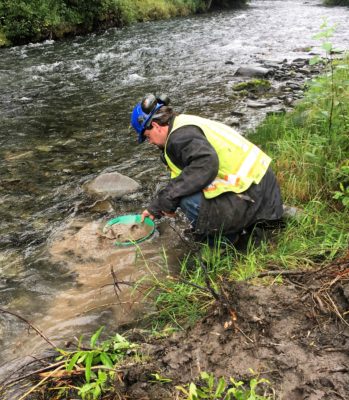 We found a few colors, so, decided to run a few buckets.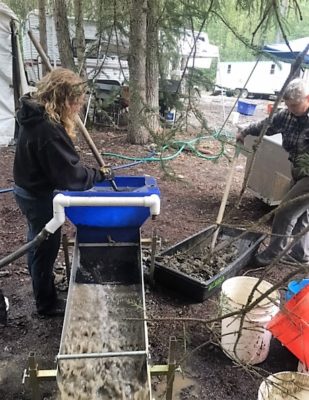 Honestly, it was fun to work this way.  It reminded me of the old days when we first started out. Shoveling, filling buckets, and being thrilled with the smallest amount of gold.  In the evening we we're the kind of tired that only comes from a long day of physical activity.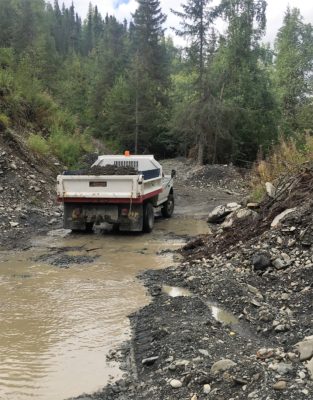 Pleased with the bucket test, we loaded the small pickup size dump truck and got a few yards up to the trommel.  It was slow-going to run, the wet material didn't want to go through the grizzly, but we were pleased with the results.  The gold seems larger and in more concentration than our current digspot.  700 is definitely a contender for next season.