"The mountains are calling, and I must go." –   John Muir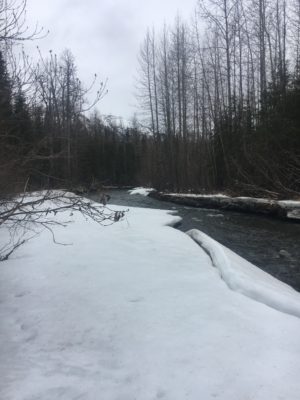 Welcome to the start of the 2017 Alaska mining season!  To those of you just joining our story, we are a family of gold miners from Alaska.  For some reason that I will never understand, folks like to hear about our trials and tribulations while trying to dig our fortune out of the ground.  For those of you who have followed us in the past, thanks for tuning in again!
I understand what Muir was saying about the call of the mountains – I've been hearing it for some time, though the snow didn't seem to be cooperating.  Thankfully though, Spring is finally upon us and its time to start setting up.  First piece of equipment – the recently repaired backhoe- is on site.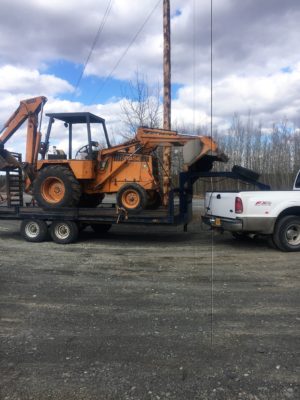 While there is still snow in places like the creek – there are some signs of Spring – we even found a patch of violets.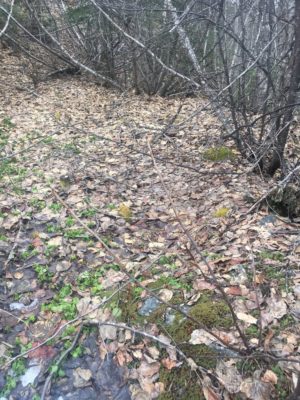 The camp looks pretty lonely right now, looks like we shouldn't have left our supply tent up (we lovingly call it the taj mahal) I guess we had a big snow load here this winter!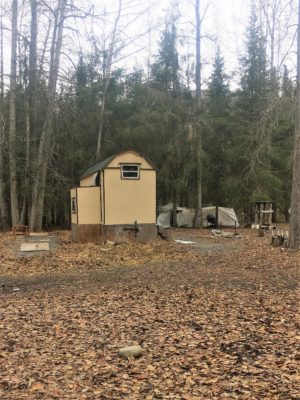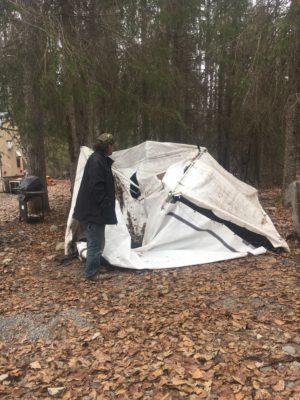 The dog couldn't resist a wallowing in the settling pond.  We're not the only ones excited to be back at the mine!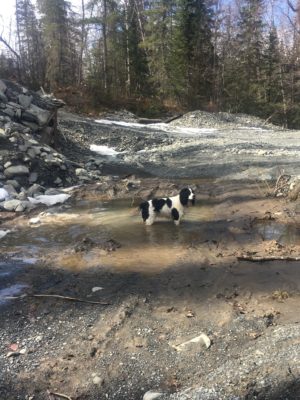 Both our new and old dig sites are not quite thawed out, but that is ok, as we still have a bit of staging to do.  You may remember that last year we had a magnetometer survey done to help us find that "good pay"  and we are really looking forward to following up on one of the "hot spots" from the survey and seeing what kind of values are there.  This spring I can tell you why there is most likely good gold there – the water is just pouring out there, draining from up on the canyon rim.  You can literally hear the water trickling down.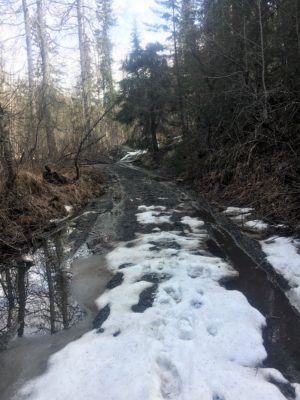 More to come – just thought I'd let you all know the news.  IT'S MINING SEASON!!!!

We now have a newsletter!  If you'd be interested in receiving blog posts and promotions to your inbox – please feel free to sign up.  You'll get a conformation email – be sure to check the Junk folder.