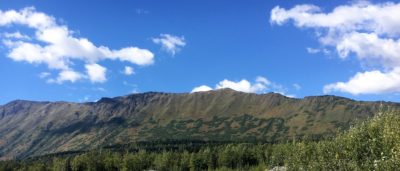 The leaves are starting to turn, and thus begins the bittersweet chapter of mining season.  With the kid back in school, and most of the rest of our crew gone, its up to just my husband and I to save what's left of the season.  Thanks to grandma for getting the kid to school during the week, we are able to work as long as we have daylight, skip lunch, and get up early.
Mining in the fall is not so bad; less bugs, more bears.  Though we haven't seen a bear yet this season (knocking on wood).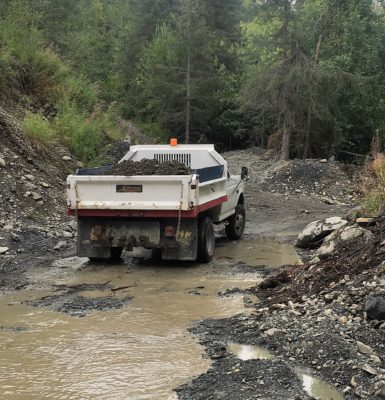 The backhoe is still in pieces at the mechanic's shop, but we simply couldn't wait anymore.  Time to try out the little dump truck that we've had for a while but never taken up to the mine.
It takes a little longer because we  first have to use the excavator to load the truck from the dig site. Second, stockpile the stuff at the washplant. Then third, drive the excavator back over to load the washplant. But it worked pretty well.  In fact, we might make this truck part of the process for next season and save the miles on the backhoe.
Also, thankfully, we finally got the report from the geologist on the magnetometer survey.  There are a lot of very promising prospects including possible some bedrock source gold.  I think I'm going to work on the permits to expand the place we were testing last time, as the report agreed with our test results.  We really can't tell anymore about this spot until I get permission to clear some trees and make some road improvements.  In the meantime, there's a couple of small hotspots we're headed towards at in our current digsite that we hope to break through too soon.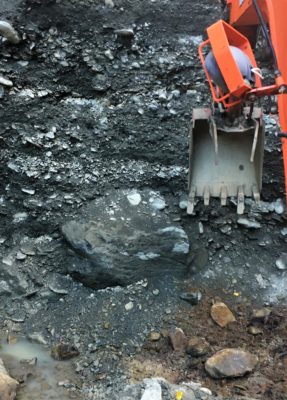 I've been fighting with this dang rock for days with the excavator, but I bet it's where the gold is coming from.  I'll get it soon.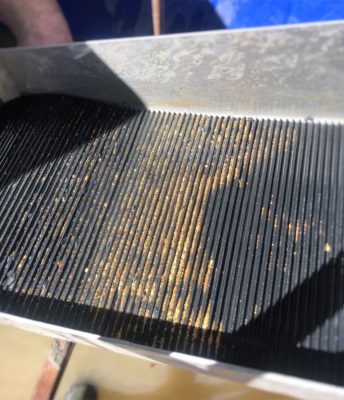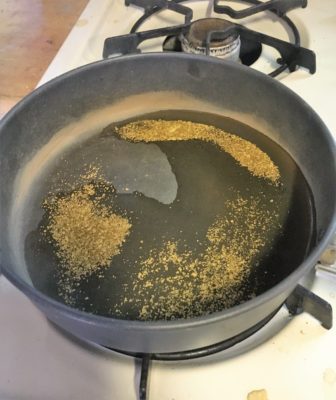 Pretty good results, less than usual because the process is a little slower, but better some gold than none.
Also more of the crystaline gold in this cleanout.