Hey Everyone!
I have to really apologise for not updating you all in a while.  Sometimes when stuff is going so bad, its really hard to talk about.  Remember a few posts back we had to get a new final drive for the excavator?  We ordered the new drive got it installed, everything was great.  Then the bolts all sheared off for some reason and we ruined that brand new 3k dollar drive.  That's pretty much when I stopped updating you.
All is better now, got another new final drive, and with the help of Doug at minifinaldrives.com we got the pieces we needed to get the one we ruined rebuilt.  Doug even helped us diagnose what may have happened to cause the bolts to shear (track tension setting wrong in the owners manual).
But none of this is what you want to hear about is it?  We've hit upon a bedrock ledge, in that ledge we found a depression and that's where this little guy came from.  I'll never forget this this shining in the sun when I looked at the sluice box.  (Sorry my phone was dead, no photo).  We got as much gold in that one day as we normally get in two.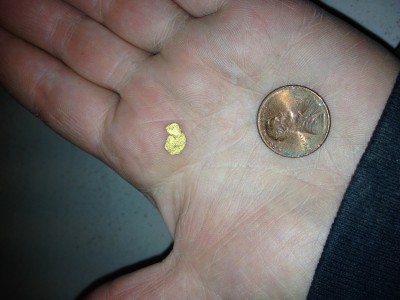 I cant wait to get back in there and see if this little guy has any big brothers.  Stay tuned…